Welcome to Black Pearl Fibreglass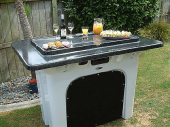 Get in touch with us today to discuss your
fibreglass manufacturing project!
Black Pearl Fibreglass are fibreglass manufacturers specialising in the construction of boats. As qualified boat builders we construct large RIB's, Trailer Boat RIB's, Pleasure Craft and Launches. We operate in a 32,000 sq ft shed offering design, plug and mould making services, all forms of GRP (glass reinforced plastic), assembly and finishing. Operational since 2000 we have been contracting to boating industry giant Rayglass for the past 16 years.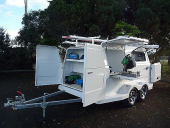 Director, Robert McLean, has been in the fibreglass industry for 26 years and is a NZ Qualified Ship and Yacht Boatbuilder and Repairer. His experience has seen him heavily involved at the coalface of three of the leaders within the NZ boat building industry.
Black Pearl Fibreglass has also expanded its production range to include other fibreglass articles including showers, tractor roofs, campervan componentry, horse floats, trailers and other lifestyle products.